After a long, dark winter with plenty of grays and browns, chances are, you're ready for some spring color! Whether you live in the snowy North or the sunny South or anywhere in between, spring means a renewal of your garden. After all, flowering plants are just what your winter-weary soul needs this time of year. If you're planting a perennial—which returns for many years—or a shrub, make sure it's suited to your USDA Hardiness Zone (find yours here), to ensure that it can survive winters in your area. Spring-blooming bulbs must be planted in fall before the ground freezes (that's as late as early December in some parts of the country). Some annuals can take a frost, but for those that aren't as tough, you'll want to plant them after the last expected frost date in your area; your local university coop extension service can advise you about that estimated date in your part of the country.
Below, find our favorite spring-blooming flowers to brighten up your garden and celebrate the first day of spring!
Weigela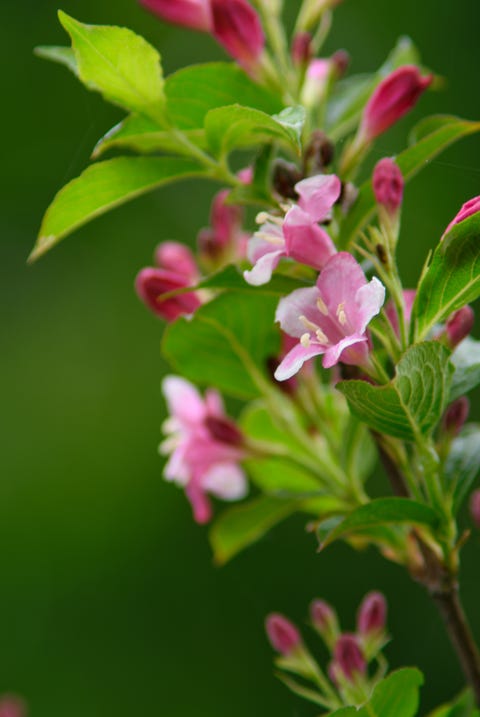 These pretty pink-and-white trumpeting flowers lend themselves perfectly to the cheerful spring season, which is also convenient since that's when it's best to plant them! They bloom most when exposed to plenty of sun, though they can also tolerate partial shade (especially in super-hot climates) and will rebloom in summer and fall. They'd look beautiful in a front garden surrounding an entryway or porch.
Crocus
EKSPANSIOGETTY IMAGES
These hardy bulbs often will pop up when snow is still on the ground in wintry climates. Crocuses must be planted in the fall for a spring show—and don't be surprised if you find them where you didn't plant them—like under a shrub! They're tasty to rodents so they often dig them up and bury them elsewhere.
Daffodil
JAMES A. GUILLIAMGETTY IMAGES
These classic springtime bulbs, which must be planted in the fall for spring blooms, are one of the first signs that spring finally has arrived! Their cheery yellow flowers are super-reliable. Rodents and deer will leave them alone.
Sweet Alyssum
MARIA MOSOLOVAGETTY IMAGES
This dainty annual looks delicate, but it's tough as nails. It doesn't mind frost at all. As long as you keep it watered, it will bloom and bloom from spring until the first hard freeze in the fall. Now that's a great investment!
Get started planning your garden for this year. By clicking the source, you'll find all 15 flowers to dream about. Happy planting!
Story by Taylor Mead, Arricca Elin Sansone and Mary Elizabeth Andriotis
Source: 15 Best Flowers to Plant for Spring – When to Plant Daffodils, Tulips, Rhododendrons, and More (housebeautiful.com)