© via love_leeds_homes
Unexpected Nook
This lovely space from @loves_leeds_homes proves you can carve out workspace almost anywhere. Define it with inspiring wallpaper (or color). Check out that wall-mount desk with slim attached legs, with matching overhead shelves for storage. So smart!
 © via @bloomingdiyer
Cozy Farmhouse
A painted floor pattern, slim storage towers and airy drapes (no actual window required) helped @bloomingdiyer carve a cozy farmhouse office out of a dark basement storage room. Create a similar look with these herringbone wood wall decals and this Moroccan tile floor stencil.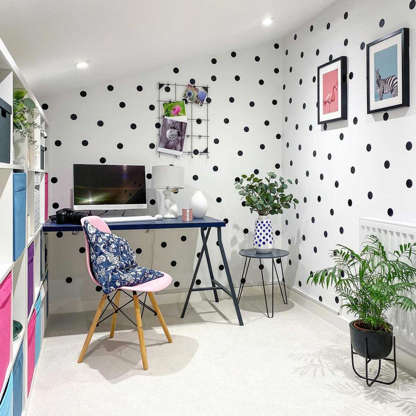 © via @littlesquaresofhome
Bright and Playful
A small office can feel dark and cramped. To make a space feel bigger and brighter, use recessed LED lighting and playful wallpaper, as shown in this office from @littlesquaresofhome. A cubby wall adds plenty of storage, and freestanding plant stands lighten without bulk.
 © via @lauracoxhome
Plenty of Plants
Every square inch of this workspace by @lauracoxhome is maximized, thanks to choices such as cut-to-fit shelves, a hardworking pegboard and a roomy basket that tucks perfectly into what would typically be wasted space. It also serves as proof that there's always space for plants, which add life, texture and cheer without taking up much space. When your desk is next to a bright window, it's practically mandatory, though faux plants are always an option.
 © via @rice_camp
Super-Sized Art
A small desk and chair tucked into the corner of your bedroom or living room certainly qualifies as a home office. A large piece of artwork anchors and defines the workspace, as @rice_camp so beautifully demonstrates.
 © via @prettyrealblog
Calm and Neutral
The right decor choices can make a small space feel bigger, like in this small office from @prettyrealblog. Vertical shiplap draws the eye up, and the neutral color palette feels calm and airy. The wall-mount shelves and smart sconce lighting free up desk space.
 © via @oakeydesignandco
Cork It Up
How can one wall host so much? Pin the praise on @oakeydesignandco's large cork board, equal parts inspiration and organization. (Use cork tiles to customize one to your space.) It definitely communicates "command central" while helping keep the desktop clear — especially challenging in a small space. And an acrylic chair is always a strong choice in a small space, since it all but disappears.
  © via @cozy.happy.home
Versatile Storage
Pegboards can be reconfigured as your needs change, and they don't take up any floor space — great for small offices. We love this beautiful reimagining of the classic wooden pegboard in this small office from @cozy.happy.home because it works as storage and art. Check out this budget-friendly option, or make your own by adapting this garage unit.
 © via @flynnhaus
Create a "Cloffice"
An office tucked inside a closet, of course! Just remove the doors and nestle a horizontal workspace inside — a floating desk like the one @flynnhaus used is perfect. Add wallpaper and a cute pendant light and you'll forget the space was ever meant for anything else.
 © via @this_little_nook
Go Long
Take a blank wall and add some plywood and a couple of 2x4s and voilà — a long workspace for two! @this_little nook went the DIY route to create a narrow shared office, though the store-bought version (i.e. this two-person desk) works, too.
Article by Erica Young  for Family Handyman