Like the succulent and tillandsia craze, hanging wall planters may have begun as a bit of a boho-hipster obsession, but the trend has found a growing following among modernists and traditionalists alike. After all, what's not to love? Wall-mounted planters showcase living greenery in sculptural forms that can enhance a blank surface in much the same way as art does, or break up a partition while injecting personality. Plus, this clever way of displaying your plants means you can pack your space with even more air-purifying goodness. 
We've rounded up 21 of the best wall planters with options fit for every style, from whimsical animal-themed pots that'd be perfect in a nursery to minimalist geometric vessels that hang like jewels in a reading nook or kitchen corner. No matter which one you choose, they're sure to add a touch of organic elegance to your space. 
© Architectural Digest
Cement Wall Planter Set
This cement planter is perfect for mounting inside or outside. You could plant a vining plant that would overflow (as pictured) or a plant a quirky array of succulent plants. Either way, it'll look gorgeous. $55, Jungalow.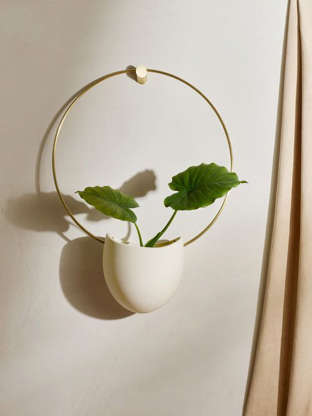 Spora Large Circle Brass Planter
Make a statement with this oversized wall-mounted planter that hangs from a sleek brass ring. It's got an understated elegance that will look good in any room. $180, Food52
Antique Brass Metal Wallscape Planter
This metal planter is available in both antique brass and polished nickel and also comes in large and small varieties. $30, West Elm.
Ready to see more selections? Click here:
https://www.msn.com/en-us/lifestyle/home-and-garden/21-best-wall-mounted-planters-to-infuse-your-space-with-greenery/ss-BB16M96j?ocid=msedgntp#image=1